Well I thought I was going to post the USA template that I used for Scrapping 'Til Dawn's design - but I'm having difficulties with it. Just my own stubborn brain doesn't like what I've done and I keep changing it. So, I've taken a break from it and I've moved onto some of her Cities of the World. I do not plan on doing them all, but I have chosen some ones I knew some things about and also did some up for friends and family who have visited. My versions are below. As always thanks to the generosity of
Scrapping 'Til Dawn
I got to play in PSP!
The first one is Rome! I made this for a friend, she loves the Trevi Fountain and has visited it many times! In her version I added a picture of her - but she asked me not to include on it my blog. So this one is just of the fountain.
The next one I did was of Paris. I used snapshots a friend took - she really enjoyed this layout.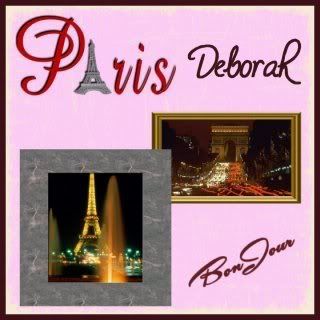 And the lsat one for today is Cancun. Again using photos from a friend.
I'll be back with more in a few days.