I just read on The Today Show website about a pet peeve survey they had done - or some such nonsense. One of the pet peeves was:
"It makes me furious when I see people who are obviously not disabled parking in a handicap parking spot! They are cheating the system!
--Anonymous , Houston, TX (submitted on Jan. 14, 2008"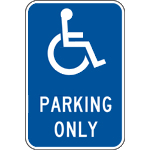 Well, let me say the following in defense of myself. I am disabled, and have a disabled parking permit. Some days I walk well and don't need my cane or assistance or a wheelchair or a driving cart. Other days I can barely move. On the day when I am able to walk out of the car and into the store, you "Anonymous, Houston, TX" see me and you are disgruntled by me, because I "....are obviously not disabled....."! You have no idea why someone has that space. Some people can not walk that far without a breathing problem, some people have had knee or hip replacements and are instructed not to walk that far, some are like me good days and bad days. How dare you presume that someone who has gone through the trouble and expense of getting a disabled parking permit, isn't using it appropriately? Now, yes there are those who borrow other people's cars and use the permit and they shouldn't! I AGREE! And they should be punished as the sign says with a fine. But if you feel that the person is not disabled, ask them to show you the paper they are supposed to carry that approves them to use that space! So far I have been asked in South Carolina, Tennessee and Virginia for that paper by store employees and twice policemen. I am happy to show it and they apologize and move on. In all situations, it was because a person with a low opinion of someone with a disabled parking permit, reported me as unworthy of the space/permit. Once you discover they are legitimate - then apologize for your insensitivity to their situation. I am tired of feeling as though on my good days, I should park elsewhere. I have no idea when an episode with my osteoarthritis or my MS will attack me and I am stuck somewhere unable to get those four extra steps to my car - because I gave in to individuals like you! I had to go to the doctor, pay a doctor's visit, and get his signature for that permit. I have to then go to my local government agency that issues the permits, pay for the permit and sign that I will not give it or loan to anyone. And every two years I have to do the same thing over and over again. Until you struggle with a disability, don't presume that you know everything about someone with a disabled parking permit. Ask you will be enlightened!